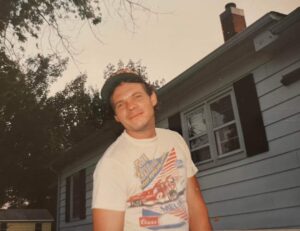 Brett M Rawlins, 60, of Lincoln, passed away June 21, 2022 at his residence.
Cremation rites have been accorded by Holland Barry & Bennett Funeral Home. A celebration of life will be held Friday, July 8, 2022 from 5-9 at the Eagles Lodge in Lincoln, IL.
Brett was born April 1, 1962, in Lincoln, IL., the son of Myron Rawlins and Gitana Kay Howard(Sexton). He was an outdoorsman and enjoyed fishing, golfing, grilling out, and playing cornhole. He was a Chicago Cubs and Green Bay Packers fan. Brett was very family oriented. He loved his kids and grandkids so much and that love can never be replaced. Brett was admirably selfless, always did everything he could to help anyone who needed it. He was always making friends
due to his natural loving and
humorous personality.
Survivors include his children: Jessie Rawlins (Halie), Jennifer McGraw (Matt), Race Rawlins (Breanna Waller), Alix Rawlins (Trent Duncheon), BrettBradley Rawlins (Arianna Grimmett), and Daytona Rawlins (Morgan Epps); grandchildren: Matthew, Karliah, Brody, Clyde, Octavia, Charlie, and Joshuah; siblings Brian and Gena. Many extended family members and friends also survive.
He was preceded in death by his parents, grandparents, and sister Rhonda.
Memorial donations may be made to Holland Barry & Bennett Funeral Home to assist with funeral expenses.