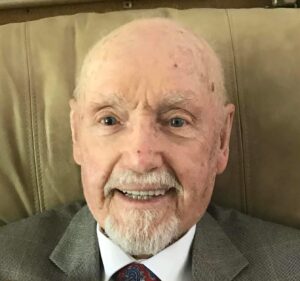 Clarence "Lee" Turner, 97, of Lincoln, formerly of Peoria, passed away peacefully surrounded by his loving family–as they collectively sang praises to their Heavenly Father–on September 22, 2023 at Copper Creek Cottages.
Visitation will be at 10:00 a.m.Tuesday, September 26, at Lee's church home, Open Arms Christian Fellowship in Lincoln, IL. A celebration of life will follow at 11:00 a.m. Burial will be at 3:00 p.m. on Wednesday, September 27, at Swan Lake Memory Gardens in Peoria, IL.
Lee was born on May 13, 1926 in Peoria, IL, the son of Clarence E. Turner and Rena (Garrison) Turner. In 1947, he married Sarah (Wagner), and she preceded him in death. On August 25, 1968, he married Velma (Young). She preceded him in death in 2019.
At the age of 17, Lee enlisted in the military. Lee proudly served his country in the United States Navy, serving in the South Pacific during World War II. He was involved in three active liberations during his service. After returning from the war, Lee's dedication and service continued. He was a hard worker, a loving father, and a selfless volunteer. He retired from Keystone Steel and Wire, only to begin a second career and later retire from Haggerty Equipment Company.
Lee was a devout Christian for almost 80 years and leaves a legacy of faith for all who knew and loved him. He was an active member of Maxwell Road Church of God (Peoria) and enjoyed pitching and playing softball with his church league, which he continued to do well into his 80's. The league ultimately named the field after him as a token of their appreciation. He enjoyed fishing and was a long-time member of the Keystone Sportsman's Club, where he spent countless hours enjoying God's creation. Later in life he had the privilege of participating in an Honor Flight, which was a moving and rewarding experience.
Survivors include his children Reverends Neil (and Marjorie) Turner, Dan (Nancy) Turner, Susie (Jerry) Whitney, Tim Cole, and Kathi (Rod) Simpson. He was very proud of the generations he leaves behind, including 15 grandchildren, 28 great-grandchildren, and 6 great-great-grandchildren.
He was also preceded in death by his parents, brother (Dean Turner), son (Alan Turner), daughter (Vicki Lockhart), and grandson (Nathan Turner).
Memorial donations may be made in Lee's name to the Greater Peoria Honor Flight, an organization that recognizes the sacrifices made by our military to ensure our freedom.