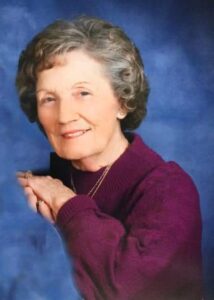 Ruth Ritchhart, 95, of Lincoln, passed away September 14, 2023, at St. Clara's Manor.
Visitation will be from 10 AM until 11 AM Thursday, September 21, 2023, at Holland Barry & Bennett Funeral Home. Funeral services will be at 11 Am followed by burial at St. Mary's Cemetery.
Ruth was born May 31, 1928, in Lincoln, IL., the daughter of Ralph and Hazel (Duggins) Colson. She married Donald Ritchhart on March 17, 1946. He preceded her in death on January 31, 2020.
Survivors include granddaughter Amy Schriber (Sara), son in law Davy Schriber, brother Rolla (Mary) Colson, and several beloved nieces and nephews.
She was preceded in death by her parents, husband Donald, daughter Donna Schriber, infant daughter Sandy Ritchhart, and siblings: Edwin Colson, Dorothy Colson Heidbreder, and Katherine Colson Semple.