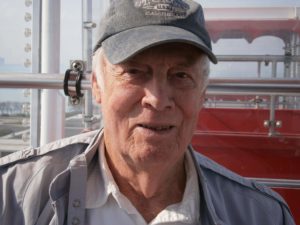 Dan Loeffelholz, 88, of Lincoln, passed away on February 17, 2020.
Visitation will be from 10 am until 11 am Monday, February 24, 2020 at Holland Barry & Bennett Funeral Home. Funeral Mass will be held at 11 am Monday, February 24, 2020 at Holy Family Catholic Church. Burial will follow at St. Mary's Cemetery.
Dan was born March 19, 1931 in East Dubuque, IL, the son of Oscar and Leta (Pluemer) Loeffelholz. He moved to Lincoln in 1947 and graduated from Lincoln Community High School in 1950. He married Julia Cecil on February 15, 1958. She preceded him in death on May 26, 1993.
He proudly served his country in the United States Navy where he was a submariner and frogman on Underwater Demolition Team Three. He served in Korea and French Indochina. Dan was formerly employed by the Railway Express Agency and retired from GTE in 1993. He was active in the Boy Scouts as a canoe and archery instructor and led his sons to the rank of Eagle. He enjoyed scuba diving in the Caribbean with all of his children. Dan was an accomplished guitar player and with his father and brothers, played music at the Logan County Fair and the Lincoln Theater with the Roy Rogers Club. He was a founding member of The Echoes Four, along with his brother Tom. They played throughout the state, between 1961 and 1978 and he later played with the Knights of Rhythm.
Surviving are his children Gene Loeffelholz of Lincoln, IL, Susan Loeffelholz of Minneapolis, MN and grandson Gage Loeffelholz of Elkhart, IL.
He was preceded in death by his parents, wife Julia, son George Loeffelholz, sister Marian Birlew, and brothers James, Thomas and Robert Loeffelholz.
Memorial donations may be made to the American Legion Post 263 and will be accepted at the funeral home.