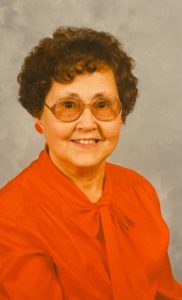 Wilda "Pauline" White, 94, of Lincoln, passed away February 21, 2020 at Abraham Lincoln Memorial Hospital.
Visitation will be from 11 AM until 1 PM Friday, February 28, 2020 at Holland Barry & Bennett Funeral Home. Services will follow at 1 PM. Burial will be in New Union Cemetery.
Pauline was born January 14, 1926 in Cornland, IL., the daughter of William H. and Goldie (Hunter) Kennett. She married Raymond H. White. He preceded her in death in 1985.
Mrs. White worked at the Woolworth and Ben Franklin Stores in Lincoln and also at Lehn and Fink. She enjoyed camping, fishing, and gardening. She supplied the neighborhood with tomatoes, pumpkin blossoms, and peppers. Pauline was a member of Lincoln Christian Church where she formerly taught Sunday School and Vacation Bible School.
She was the last of her immediate family. Surviving are her daughters Delores Hart and Paula Schaub; four grandchildren, 7 great grandchildren, and 11 great-great grandchildren also survive.
She was preceded in death by her parents, husband, sister Juanita Millard, sister Margie Henson, brother Everett Kennett, sister Loretta Malloy, and granddaughter Nikita Kennedy.
Memorial donations may be made to the Alzheimer's Association or to the American Heart Association.