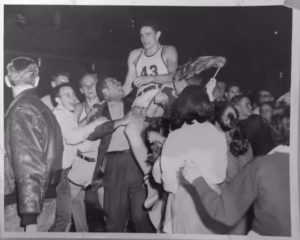 David Lee Cadwallader, 81, of Lincoln, passed away April 4, 2019, at Grace Point Center with Lincoln Christian Village. Cremation rites were accorded by Holland Barry & Bennett Funeral Home. Graveside services will be held May 18, 2019 at 9:30 AM in New Union Cemetery with Pastors Michael Mallick and Ryan Edgecombe officiating.
David was born August 9, 1937 in Lincoln, IL., the son of William H. and Mary L. (Splain) Cadwallader. He married Arlene Schoen in 1959. She preceded him in death in 1972. He later married Jeri J. Winford on February 16, 1974. She survives.
Mr. Cadwallader was raised in Lincoln and graduated from the University of Illinois. After achieving a masters degree he was a coach and teacher at the Michigan School for the Deaf in Flint, MI. from 1956-1961; was Supervisor and General Supervisor of Production, Superintendent of Material and Production Control, and Supervisor of Manufacturing at Chevrolet Engine Plant, Flint, MI; and former Project Coordinator at Romulus Engine Plant in Romulus, MI. prior to his retirement in 1991. In more recent years he occasionally worked as a substitute teacher in the Lincoln school system.
David was a member of Big Brothers/Big Sisters of Michigan; sponsor for Junior Achievement of America; Administrative Board, Staff Parish Committee and church member of Calvary United Methodist Church, Flint, MI.; member of Jefferson Street Christian Church, Lincoln; Board Member of the Lincoln Salvation Army 1991-1993; Member of the Gold Wing Riders Association; Holiday Rambler Recreational Vehicle Club member, North American Hunting Club, Big Stump Camp, Channing, MI., and a volunteer at Christian Nursing Home, Lincoln. David still holds Lincoln Basketball Records in rebounds for game and season dating back to 1955. Lincoln may remember him best with his winning shot which led his Lincoln High School to a basketball championship!
Surviving are his wife Jeri of Lincoln; children: Steven (Cathy) Cadwallader of Fountain Hills, AZ, Janelle (Steve) Hoffman of Fountain Hills, AZ, Dana (Brad) Hayden of Half Moon Bay, CA., and Robert Winford of Flint, MI.; grandchildren: Claire Cadwallader, Tanner & Tiegan Hoffman, Evan Hayden, Kayla, Alexander, and Mackenzie Winford; and sister Donna Filter of CA. Also, surviving are his beloved neighbors Darrell & Michelle Vermiere and children.
The family welcomes anyone who would like to attend service.
Memorial donations may be made to Jefferson Street Christian Church, Memorial Fund for David Cadwallader