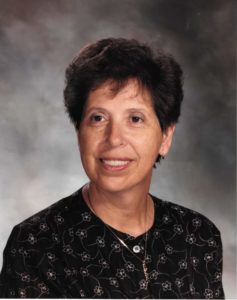 Fox, Marilyn S., died January 29, 2019 at the age of 83 in Dayton, OH. Marilyn was born on December 3, 1935 in Carlinville, IL to the late Chlorus and Elberta (Dink) Hubbell. Marilyn was preceded in death by her husband of 60 years (Ron) and parents (Chlorus & Elberta). She is survived by her son Brian Fox (Todd Fassero), daughter Susanne Burritt (Bob), granddaughters Tatum and Alyssa, and cousins Ann (Bill) Sharp and Linda (Brian) O'Connor. Marilyn earned a degree in biology from Bradley University and her medical technician certification from St. Francis Hospital (Peoria, IL) in 1958. Marilyn and Ron married on January 23, 1959 in Peoria, IL and moved to their new home in Lincoln, IL after Ron's graduation from Bradley University that spring.
Marilyn began her career as a medical technician at Abraham Lincoln Memorial Hospital before staying home to raise her children. In 1979, she returned to work as a full-time teacher, spending 14 years at Central School as a fifth and sixth-grade science and math teacher and another 6 teaching science at Lincoln Junior High School. Marilyn highly valued education for children and during those years; she touched the lives of many students in Lincoln. Marilyn was actively involved in her community, serving as president of the Lincoln Public Library Board of Directors, a Girl Scout troop leader, a member of the Lincoln Junior Woman's Club, and participated with Ron in United Methodist Church mission trips to Henderson Settlement (Kentucky) and the McCurdy Schools (New Mexico).
Marilyn was a talented seamstress and quilter, an avid genealogist, and loved gardening, reading, dachshunds, camping and the outdoors. Marilyn & Ron loved to travel and got to share many of their adventures with friends, visiting Australia, Ireland, Russia, Hungary, Turkey, Italy, Denmark, Germany, Switzerland, Austria, Canada, Mexico, Alaska, Hawaii, and many other states. Above all, Marilyn loved her family and would do anything for them and we will miss her. The family wishes to thank the staff at Timber Creek Village, Copper Creek Cottages, The Carlyle House, and Hospice of Dayton for the care and kindness' given to Marilyn, Ron and their family during the decline of their health.
Visitation will be held Friday, May 17, 2019 starting at 11:00 a.m. with a funeral service at 1:00 p.m. at the First United Methodist Church in Lincoln, IL. Burials for Marilyn and Ron will be held immediately following the service at Elkhart Cemetery. Holland, Barry, & Bennett Funeral Home is serving the family. The family welcomes flowers or donations to the Alzheimer's Association or Hospice of Dayton.