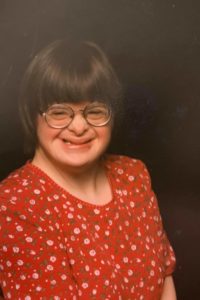 Debra Eileen Danosky, 51, of Lincoln, passed away February 11, 2019 at St. Johns Hospital.
Cremation rites will be accorded by Holland Barry & Bennett Funeral Home. Memorial services will be held Friday, February 22, 2019 at 11 AM at Holland Barry & Bennett Funeral Home with Ron Otto officiating.
Debra was born August 13, 1957 in Lincoln, IL., the daughter of John F. Danosky and Phyllis Eileen (Abner). She never knew a stranger, loved hugs, Coca-Cola, Grease, High School Musical, Ghostbusters, the Beach Boys, Dancing, watching football, and Railer cheerleaders. She was active in Special Olympics and received several medals. Debra lived at the North Kickapoo Group Home for many years where she was affectionately known as "Doodle".
Surviving are her mother; siblings: Joseph John Danosky (Brenda), William Anthony Danosky (the late Christina), twin brother David Michael Danosky (Jennifer L.), and Julie Marie Danosky; several nieces, nephews, Uncle Tony Danosky, cousins, and friends also survive.
She was preceded in death by her grandparents and her father.
In lieu of flowers, memorial donations may be made to Special Olympics of Illinois.