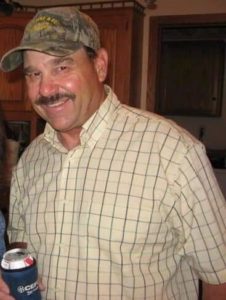 Mark Kevin Gleason, 65, of Lincoln, suddenly passed away on Sunday, February 10, 2019 at Abraham Lincoln Memorial Hospital, Lincoln.
Visitation will be from 4-7 PM Friday, February 15, 2019 at Holland Barry & Bennett Funeral Home. Funeral services will be at 11 AM Saturday, February 16, 2019 at St. John's Lutheran Church, Hartsburg with visitation one hour prior. Burial will follow services in Hartsburg Union Cemetery.
Kevin was born on February 8, 1954 in Lincoln, IL., the son of Francis Donald Gleason and Virginia (Huff) Gleason. He married Cindy Conrady on April 3, 1976 and they had four children: Mark (Ruah) of San Marcos, TX., Amanda (Adam) Buglio of Homer Glen, IL., Matthew (Haley Conklin) and Mitchell both of Hartsburg, IL. He is also survived by four grandchildren: Giada, Marco, and Giuliana Buglio and Gracie Gleason. He has one brother and three sisters, including Bridget (Ed) Slayton and Maureen Gleason.
A simple but strong man, he lived for the outdoors, his dogs, Chevy pickup trucks & John Deere tractors, teasing his grandkids, talk radio and Fox News, hard work whether it be on the farm or as a prison guard, Gator rides, his pond, the Springfield newspaper, St. Louis Cardinal baseball, canned PBR, his gray pocket t-shirts & flannel shirts, camo anything, a good fish fry, conservative politics & of course his family. Kevin was an avid outdoorsman. He shared his love and knowledge of the outdoors with his sons.
Kevin retired from the Illinois Department of Corrections after 25 years, but continued working as a farmhand within the family. He was always there if someone in the family needed an extra hand. He was a proud member of the NRA.
He was preceded in death by his mother and father-in- law Margaret and Robert Conrady.
Kevin had designated to be an organ donor. Through Gift of Hope he will be helping 20 people.
Memorial donations may be made to the American Heart Association or to the KC's Defibrillator Fund and will be accepted at the funeral home.