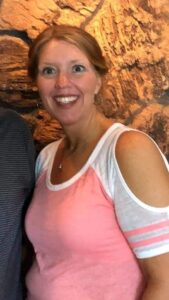 Dena Jean Manley, 43, of Lincoln, passed away at 8:13 AM Tuesday, August 11, 2020 at home surrounded by her loving family.
A drive through memorial visitation will be held from 2-4 PM Saturday, August 15, 2020 at Holland Barry & Bennett Funeral Home. Private family memorial services will be held at 4 PM. Those wishing to view the memorial service on line may contact Holland Barry & Bennett Funeral Home with their email address for a Zoom Meeting invitation.
Dena was born September 13, 1976 in Springfield, IL., the daughter of Don and Carolyn (Silger) Manley. She married Terry Potts on September 26, 2015.
Surviving are her parents Don and Carolyn Manley; her husband Terry Potts, her sons Zackery Luke Manley and Clayten Dean Manley, and her step daughter Taylor Potts. Also surviving are several aunts, uncles, cousins, and friends. She was preceded in death by her paternal and maternal grandparents.
Dena was the owner/operator of Dena Memorials Inc. and was the third generation in her family in the monument business. She loved the farmer's market in the summertime, took gourmet cooking classes and was an excellent cook, she enjoyed travel, and being outdoors and hunting with her husband. Dena was compassionate, selfless, and encouraging. She was always thinking of others and went above and beyond to let her customers know that she cared. She was a loving daughter, wife, and mother. Her sons were her top priority, and she always made sure they were ready for all of their activities. She welcomed her sons' friends and was like a second mother to many of them. She will be missed by all who knew and loved her. Her faith in God has given her an eternal home in Heaven and we can't wait to be with her again.
Memorial donations may be made to the Zackery and Clayten Manley College Fund in care of Don or Carolyn Manley and will be accepted at the funeral home.