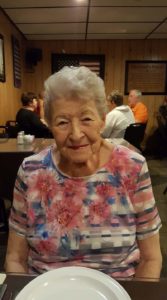 Dorothy Agnew Talkington, 89, of Lincoln, passed away November 7, 2019 at Abraham Lincoln Memorial Hospital.
Cremation rites have been accorded by Holland Barry & Bennett Funeral Home. Burial will be at a later date in Irish Grove Cemetery.
Dorothy was born February 23, 1930 in Mason County. IL., the daughter of Grover Cleveland Liesman and Pearl(Sanders). She married John AGnew on July 29, 1949. He preceded her in death on February 26, 1968. She later married Bill Talkington. He preceded her in death.
Dorothy worked for Franklin Life Insurance Company and later for Sears. She was of the Lutheran Faith.
Surviving are her daughter Cathy (Trevor) Steinbach; granddaughter Whitney Steinbach, and sisters Gladys Steinhour and Lois Stuart. She was preceded in death by her parents, husbands, twin sister Doris McMorris, sister Fern Marshall, and brothers: Alvin Liesman, Paul Liesman, Wesley Liesman, and Robert Liesman.
Memorial donations may be made to the American Heart Association.