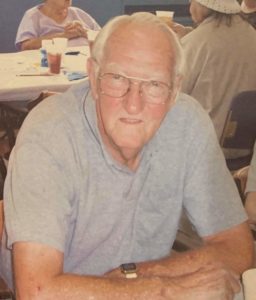 Herman E. Geriets, 83, of Lincoln, passed away November 8, 2019 at St. Clara's Manor.
Visitation will be from 10 AM until 11 AM Thursday, November 14, 2019 at Jefferson Street Christian Church. Funeral services will follow at 11 AM with Pastor Michael Mallick officiating. Cremation rites will then be accorded. There will be no burial at this time. Holland Barry & Bennett Funeral Home is assisting the family.
Herman was born August 6, 1936 in Athens, IL., the son of Herman F. Geriets and Carrie (Naylor). He married Alice Goodman on August 29, 1958. He proudly served his country in the Army Reserves. Herman worked for Stetson's China Company and for Lehn and Fink, after retirement her worked on lawnmowers. He was a member of the C.B. club, enjoyed mechanics, and working on lawnmowers.
Surviving are his wife Alice; son Jody (Beverly) Geriets, daughter Tammy Randall; grandchildren: Joshua Geriets, Derek Geriets, and Jarron Randall; great grandchildren: Camden, Cayden, Dominic, Elliott, Lexi, Jerika, Amaya, and Jarron Jr.; sister Donna Miles also survives.
He was preceded in death by his parents, grandson Jeremy Geriets, and 5 siblings.
Memorial donations may be made to the family or to the donor's choice.