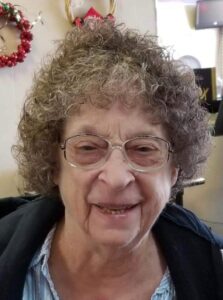 Dorothy J. Ellis, 90, of Lincoln, passed away April 19, 2023 at The Christian Village.
Graveside services will be held May 5, 2023 at 11 AM in Hartsburg Union Cemetery. Pastor Ron Otto will officiate. Holland Barry & Bennett Funeral Home has been entrusted with her care.
Dorothy was born November 15, 1932, in Indianapolis, IN., the daughter of Orlando B. Little and Ruth A. (Alverson) Little. She married John J. Ellis on May 24, 1953. He preceded her in death on January 12, 2023. She loved to read, especially mysteries. Dorothy loved music, genealogy, and nature photography. She was a docent at Riverfront Museum (formerly Lakeview Museum) in Peoria. She was also a member and past president of the Peoria Association for Children with Learning Disabilities.
Survivors include her children: Beverly Schom (Ted), Kenneth Ellis (Pamela), and Debra Last (David); grandchildren: John-Jamil Khan (Chelsea), Katherine Dragon (David), Carolyn Grafton, Eden Knizacky (Matt), Emily Osburn (Garth), and Bethany Henson (Thor); six great grandchildren also survive.
She was preceded in death by her parents, husband Dr. John J. Ellis, sister Marjorie Blekking, and brother Robert Little.
Memorial donations may be made to the Christian Village Auxiliary