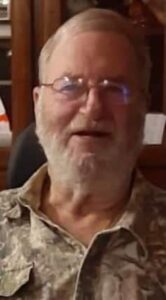 UPDATED SERVICE INFORMATION
Carl Leroy Boward, 69, of Middletown, passed away peacefully at his home surrounded by his family on September 22, 2022.
Cremation rites have been accorded by Holland Barry & Bennett Funeral Home.
A celebration of life will be held at 3 PM, May 7, 2023 at Jefferson Street Christian Church with Tom Ewald officiating.
Carl was born June 7, 1953, in Logan County, the son of Clyde and Dorothy (Hunter) Boward. He married Marcea Land on August 9, 2014. He graduated from New Holland Middletown High School and attended Lincoln Land and SIU Carbondale. Carl was employed at Ag Land FS from 1989 to 2008.
Carl enjoyed the outdoors, fishing, trapping, and hunting. He had a strong faith in God and was active in his church, Jefferson Street Christian Church, as a door greeter for several years.
Survivors include his wife Marcea; brother Jake Boward; stepchildren: Kyle (Ariel) Johnston, Jenny (Scott) Lough, Craig (Rebecca) Johnston, Dan Johnston, and Paul Johnston; 15 step grandchildren: Ellie, Bubba, Vivian, Gideon, Anne, Caroline, Irene, Anthony, Elijah, Abigail, Levi, Priscilla, Titus, Eli, and Joanna.
He was preceded in death by his parents and step grandson Caleb.