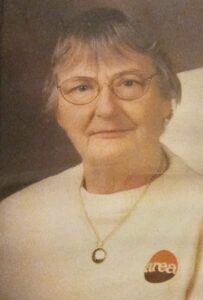 Elois J. Fishburn, 75, of Beason, passed away March 21, 2023, at St. John's Hospital with her family by her side.
Visitation will be from 11 AM until 1 PM Saturday, April 1, 2023, at Holland Barry & Bennett Funeral Home. Funeral services will follow at 1 PM with pastor Paul Weber officiating.
Elois was born November 25, 1947, in Dalton City, IL., the daughter of Virgil B. Dinger and Florence (Jenkins) Dinger. She married George Howard Fishburn on May 17, 1969. She loved sitting next to her husband on the front porch, going for rides, fishing, having fun, loved her dog, and enjoyed her grandkids greatly.
Survivors include her husband George, children: Johnny (Chris) Ireland, Tina Snyder, Harold Fishburn, and Mark (Yvonne) Fishburn; grandchildren: Amanda June Fishburn, Tori Fishburn, Toni Lynn Perugino, Tammy Fawns, Andrew Albertson, Autumn Owens, Summer Ireland, Stormy Ireland, Josh Owens, and Emily Chezen; 19 great grandchildren: special friend Charity Mileham; her canine companion Reece; siblings: Phyllis Shockley, Tony (Paula) Dinger, Steve (Diana) Dinger, and Vicki Knapp. Several nieces, nephews, cousins, and friends also survive.
She was preceded in death by her parents, son George Ireland, grandson Erik Andrew Thomas Bricker, grandson Jeffrey Ireland, great grandson Mason, and siblings Danny K. Dinger, Dick Dinger, Dave Dinger, and Pat Dinger.
Memorial donations may be made to Beason Fire and Rescue or to the family to assist with expenses.