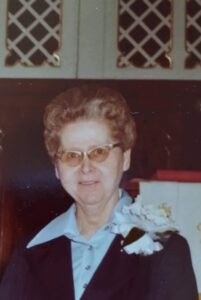 Betty M. Fletcher, 99, of Lincoln, passed away March 18, 2023 at St. Clara's Manor.
Visitation will be from 10 AM until 11 AM Thursday, March 23, 2023 at Holland Barry & Bennett Funeral Home. Funeral services will follow at 11 AM. Burial will be in Zion Cemetery. Casual dress is requested.
Betty was born September 2, 1923, in Hartsburg, IL., the daughter of William W. White and Bertha I. (Fields) White. She was employed at the Tropics for 45 years. Betty enjoyed bowling, bingo, and pinochle.
Survivors include her son Michael G. Fletcher (Cleola) of Emden, IL; grandchildren: Paul Fletcher of Emden, IL., Travis Fletcher (Inez) of Lincoln, IL., Shauna Wetherell (Aaron) of Emden, IL., Tasha McDougle (Aaron) of Otsego, MN, and Blaen Fletcher of Emden, IL.; 15 great grandchildren, 15 great-great-grandchildren, several nieces and nephews, stepson Douglas J. Fletcher of Lincoln, IL., and step grandson Chris Fletcher of Lincoln, IL. also survive.
She was preceded in death by her parents, brother and sister-in-law Pete and Urla White, grandchild Angela Fletcher, and great-great-grandchild Sophia Fletcher.
Memorial donations may be made to the family or to St. Clara's Manor.