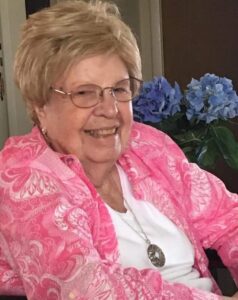 Emma M. Elliott, 94, of Lincoln, IL passed away peacefully September 3, 2021, surrounded by family.
She was born to the late John and Helena Felderhoff, April 26, 1927 in Muenster, TX—a small town in north Texas settled by her ancestors. Emma grew up on a farm in a home of deep faith and was one of 12 children, three of whom are still with us.
Emma married Monty Elliott in 1953. They lived in Ft Worth, TX for two years before relocating to Bushnell, IL near Monty's hometown. In 1970, they moved to Lincoln, IL. She is survived by her husband, Monty, and four daughters: Joyce (Matt) Madigan of Charleston, IL; Mary Jane (Rick) Sheley of Lincoln, IL; Carolyn (Bill) Brooks of Clark, MO; and Laura Elliott of Lincoln, IL. She is survived by four grandchildren: Amanda (Nathan) Steffen of Champaign, IL; Betsy (Chris) Meyer ofBloomington, IL; Christopher (Andrea) Sheley ofLincoln, IL; and Ryan Brooks of Wellington, CO; and nine great-grandchildren. Also surviving are sistersPhyllis Ladd of Napa, CA; Celine Schrage of Salinas, CA; and Selma Wright of San Antonio, TX. Emma was preceded in death by brothers Frank Felderhoff, Vincent Felderhoff, Lawrence Felderhoff, Alphonse Felderhoff, Henry Felderhoff and Leo Felderhoff and sisters Rita Tucker and Agnes Felderhoff.
Emma was a devoted mother, grandmother and great-grandmother who always put the needs of her family first. One of her greatest joys was spending time with family and friends, and leaves behind many beautiful memories. She was an accomplished baker, seamstress, and needleworker and is known for her beautiful creations. Emma was a woman of strong values and cheerful spirit. She enjoyed being a long-time member of the local "Stitch Group" and several bridge groups. Emma shined her light, lived her faith and was known for often saying, "It'll all work out." Emma was a member of Holy Family Catholic Church.
Funeral services will be held on Monday, September 6, 2021 at Holy Family Catholic Church in Lincoln, IL. Visitation will be at 10:00 a.m. at the church followed by a Mass at 11:00 a.m., with Rev. Joseph Dondanville. The burial service will take place at St. Mary's Catholic Cemetery in Lincoln on Wednesday, September 8, 2021 at 10 a.m. Holland Barry & Bennett Funeral Home is assisting the family. In lieu of flowers, gifts in her honor can be made to Holy Family Catholic Church or Carroll Catholic School, mailed in care of Holland Barry & Bennett, 620 Pulaski St, Lincoln, IL 62656.