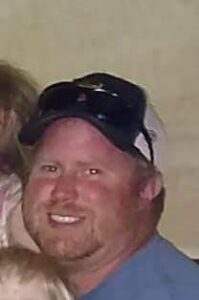 Chad E. Osborn, 41, of Hartsburg, passed away September 4, 2021.
Visitation will be from 5-7 PM Friday, September 10, 2021 at St Peter's Lutheran church in Emden. Funeral services will be at 11 AM Saturday, September 11, 2021 also at the church with Pastor John Schurter officiating. Masks and social distancing will be required. Burial will follow in Hartsburg Union Cemetery. Holland Barry & Bennett Funeral Home is assisting the family.
Chad was born December 5, 1979 in Lincoln, IL., the son of Darrell and Brenda (Williams) Osborn. He married Stellakay Donaldson on August 14, 2004. Chad was a graduate of Hartsburg Emden High School. He was a lifelong farmer alongside his dad on the family farm. He was a member of the FFA and was a Hartsburg Fire Department Trustee. He enjoyed woodworking, building, farming, and gardening. He had a love for small animals and livestock. He loved to spend time with his children, especially 4 wheeler riding.
Surviving are his parents Darrell and Brenda Osborn, his wife Stellakay Osborn, his children Claire Osborn and Trent Osborn, sister Heather Osborn, brother Jason Osborn (Dawn Phillips), father in law and mother in law Kerry (Sherri) Mester, sister in law Lisa Donaldson, and nephew Alex Donaldson, also surviving are his Aunt and Uncle Diane and Glenn Osborn,Uncle Joe Runyon (wife. Carol) and numerous cousins
He was preceded in death by his grandparents.
Memorial donations may be made to the family of Chad Osborn in care of Harstburg State Bank.