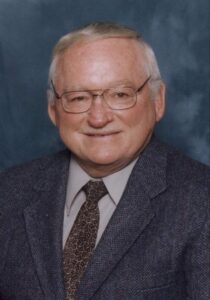 Floyd A. Bee, 82, of Springfield, passed away August 19, 2022. Holland Barry & Bennett Funeral Home in Lincoln, IL. is assisting the family.
Visitation will be from 4-8 PM Thursday, August 25, 2022, at St. John's Lutheran Church in Springfield. Funeral services will be at 11 AM Friday, August 26, 2022, also at the church with Pastor Greg Busboom officiating. Burial will follow in Oak Ridge Cemetery.
Floyd was born December 29, 1939, in Springfield, IL., the son of Clifford and Vera (Liggett) Bee. He married Elena Dach on September 2, 1961. He was a 1958 graduate of Springfield Lanphier High School where he was the school's first ever wrestler to qualify for a state tournament. He also wrestled collegiately and graduated from Eastern Illinois University with a bachelor's degree and a master's degree in Education. Coach Floyd Bee was a wrestling coach and teacher at Rock Island High School, Gurnee Warren High School, Springfield Southeast High School, and for the last 30 years at Lincoln Community High School, where his wrestling teams had 30 consecutive winning seasons. He was a member of the Illinois Wrestling Hall of Fame, National Wrestling Hall of Fame, and a two-time national wrestling qualifier while at Eastern Illinois University.
Floyd claimed to be the best poker player in all of Springfield, IL. as well as the best fisherman on his annual Canadian fishing trip. He undoubtedly was a great husband, father, grandfather, great grandfather, teacher, coach, and mentor to many. He will be missed and fondly remembered by all who knew and loved him.
Survivors include his wife, Elena Bee; children: Gregory (Judy) Bee, Kelly (Jerry) Rabbe, and Jeffrey (Becky) Bee; grandchildren: Ashley (Otis) Foster, Whitney Rikas, Rayna (James) Dambacher, Maggie (Blake) Hughes, Alex (Shayla) Bee, Alyssa Ramirez, Kayley Rabbe, Campbell Bee, Claudia Bee, and Clara Bee; great-grandchildren: Addie Foster, Odin Foster, Tavon Gowdy, Calvin Gowdy, Canaan Dambacher, Marley Bee, and Ziggy Bee; brother Raymond Bee; and several nieces, nephews, cousins, and friends.
He was preceded in death by his parents, brother Clifford Foster, sister Phyllis Hull, sister Marilyn Sue Bee, and twin grandsons Parker and Preston Bee.
Memorial donations may be made to the Boys and Girls Club of Springfield, IL or to the Lincoln Railer Wrestling Booster Club and will be accepted at the church and at the funeral home.