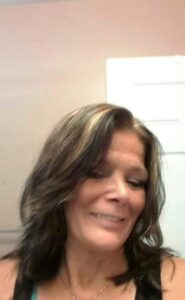 Frankie Lynn Skelton, 55, of Peru, IL., passed away April 27, 2022 at her residence.
Visitation will be from 5-7 PM Wednesday, May 4, 2022 at Holland Barry & Bennett Funeral Home.
Frankie was born August 14, 1967, in Spring Valley IL., the daughter of Benjamin Nelson and Diana
( Bertalot). She married Terry Skelton February 14, 2000.
She enjoyed her job and Co workers at the Flat River Group in Peru, IL. She loved animals, especially her dog Loki. Frankie enjoyed cooking, mushroom hunting, puzzles, and liked hummingbirds.
Survivors include her husband Terry Skelton; children: Elizabeth Ingram ( Sabrina), Davey Cox, Brittany Holt, Kelby Klicker, and Ashley Cox; 12 grandchildren; siblings: Roberta Losey, Becky Pride, Shelly Mullins, Benjamin Nelson, and Diana Stropes; several brother and sister in laws, nieces, nephews, cousins, and friends also survive.
She was preceded in death by her parents, brothers Kelly Nelson and Steven Nelson, and granddaughters Destiny and Ezra.
Memorial donations may be made to the American Lung Association or St. Jude's Children's Research Center and will be accepted at the funeral home.
Lesleigh Bennett
Holland Barry & Bennett Funeral Home