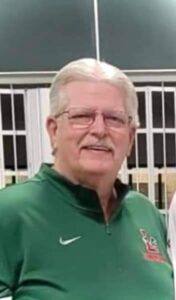 Leland James "Jim" Mammen, 69, of Lincoln, passed away April 26, 2022, in Memorial Medical Center following a brief illness.
Visitation will be from 11 AM until 1 PM Sunday, May 1, 2022, at Holland Barry & Bennett funeral Home. Funeral services will follow at 1 PM with Ron Otto officiating. Burial will be at 11 AM Monday, May 2, 2022, in Zion Cemetery, Lincoln.
Jim was born June 12, 1952, in Lincoln, IL., the son of Leland E. Mammen and Wanda (Schoof). He married Lucinda Ann "Cindy" (Klockenga) on December 30, 1969, in Kirkwood, Missouri. He attended Emden Grade School and graduated from Hartsburg Emden High School in 1970. Jim had a hard work ethic. He was employed as a machinist at Caterpillar for 40 years. After his retirement, he went back to work driving a semi for Deppe Trucking in Mt. Pulaski. He loved his time at the trucking company, and they loved him. His passion for sports and athletics led him to coach, referee, and umpire many games and matches in his lifetime. He was a member of the Illinois Officials Association. He also served on the Board of Education at Lincoln Community High School for 20 years, lastly as President. A Dodger fan for life, he could often be found watching the game. He also was an avid NASCAR fan and attended many races. Whoever was driving the Caterpillar car was the driver he rooted for. Jim was a member of Immanuel Lutheran Church. He was very active in the Jaycees, the Jaycees Senate, and the Foundations for both organizations. He served many offices within the Jaycees Organization including Illinois State President, National President and Ambassador to Europe. His participation with the organization allowed him to travel to all 50 states, take several trips to Europe, and travel to 10 other countries including Greece, Japan, and Suriname in South America. He was elected into the Jaycees Hall of Fame. Above all else, Jim loved his family. He attended as many of his grandchildren's activities as he could, as long as he wasn't golfing, another pastime he greatly enjoyed.
Those left to cherish his memory and carry on his legacy include his wife Cindy; daughter Heather (Joe) Ryan, son John (Marsha) Mammen, 5 grandchildren: Delaney Ryan, Hadley Ryan, Bellamy Ryan, Ashlee Mammen, and Wyatt Mammen; 3 great grandchildren: Avrey, Keenan, and Khiana; siblings: Wanda (Gene) Rohlfs, Mitzi Grigg, Jeff (Val) Mammen, Chuck Mammen, and Lisa (Ken) Kmieciak; Brothers-In-Law Mike (Crystal) Klockenga and Jerry (Jan) Klockenga; several nieces, nephews, cousins, and friends also survive.
He was preceded in death by his parents, sister Sharon Norman, and brother Tony Mammen.
Jim will be missed and thought of each time a shot of Jack Daniels is shared, peanut M&M's or cashews are enjoyed, the Dodgers win a game, or the CAT Driver takes home a NASCAR Win.
Memorial donations may be made to the Illinois JCI Senate Foundation or to the National JCI Senate Foundation and will be accepted at the funeral home.