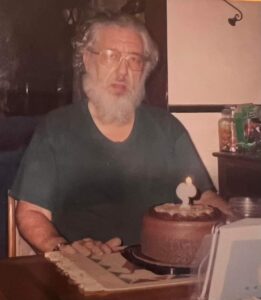 Fred William Cook, 76, of Lincoln, passed away August 4, 2023 at Decatur Memorial Hospital.
Cremation rites have been accorded by Holland Barry & Bennett Funeral Home. A memorial service will be held at 6 PM on Monday, September 11, 2023 at Crossway Church.
Fred was born April 28, 1947, in Chicago, IL., the son of Chester and Frances (Walker) Cook. He married Sandra Craig in 1982. He proudly served his country in the United States Navy. Fred was an over the road truck driver for many years. He and Sandy visited 48 of the states and several provinces. He was a member of the American Legion Post 263 and a faithful member of Crossway Church. He collected chess sets, pipes, and enjoyed cigars.
Survivors include his wife Sandy Cook, step son Victor Robert Carlyle III (Laurie), step grandsons Christopher Robert Carlyle, Michael Richard Carlyle, and Jeffrey Jay Carlyle; step great grandchildren: Joshua Carlyle, Victor Carlyle, Abby Carlyle, and Robert Carlyle; sister Judy Harms, nieces, nephews, church family and friends also survive.
He was preceded in death by his parents, stepson Richard W. Carlyle, and step grandchildren William Carlyle and Toni Carlyle.
Memorialdonations may be made to Crossway Church.