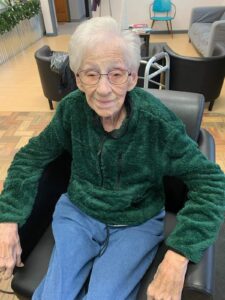 Virginia Ruth Kendrick, 91, of Lincoln, passed away September 12, 2023 at Lincoln Village Healthcare.
Graveside services will be held Monday, September 25, 2023 at Lawndale Cemetery. Holland Barry & Bennett Funeral Home is assisting the family.
Virginia was born November 8, 1931, in Normal, IL., the daughter of Homer and Ruth (Miner) Fort. She married Raymond Wayne Kendrick on March 14, 1953. He preceded her in death on December 22, 2016. Virginia retired from Abraham Lincoln Memorial Hospital as a technologist after many years of service. She had many hobbies throughout the years. She became an avid quilter and was passionate about sharing her quilts with others. Virginia made many quilts for LINUS, Quilts of Valor for veterans and many HeadStart quilts. She was a member of the Land of Lincoln Quilt Guild, Quilters at Heart, and Hands All Around Quilt Guild.
Survivors include her children: David (Kathy) Kendrick, Julie (Dan) Bobb, Wendell (Debbie) Kendrick, and Paul Kendrick; grandchildren: Brad, Peggy, Jordan, Ryan, Brett, Molly, and Melissa; great-grandchildren: Kaleigh, Kaitlyn, Ava, Evan, Caden, Lily, Emma, Parker, Avery, Eli, Eve, Hannah, and Nathaniel; 2 great-great-grandchildren also survive.
She was preceded in death by her parents, husband, 1 brother, and 2 sisters.
Memorial donations may be made to Lincoln Village Healthcare.