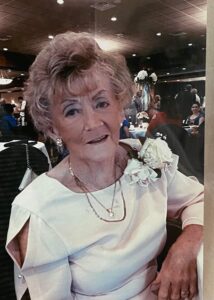 Freida "Darlene" Deiss, 90, of Lincoln, formerly of New Holland, passed away November 24, 2021 at her home.
Visitation will be from 11 AM until 1 PM Wednesday, December 1, 2021 at Holland Barry & Bennett Funeral Home. Funeral services will follow at 1 PM. Burial will follow services in Richmond Grove Cemetery, New Holland.
Darlene was born November 23, 1931 in Decatur, IL., the daughter of William Coley Conner and Daisy Reba (Tapscott). She married Rudolph V. Deiss Jr. in 1950. He preceded her in death on June 15, 1993.
She was a secretary at Perry Grieme Insurance for more than 35 years. Darlene was a member of Zion Lutheran Church and the Ladies Auxiliary of the American Legion Post 715.
She enjoyed spending time with her family and friends, shopping, jewelry and all things "pretty". She will be sadly missed and lovingly remembered by all who knew and loved her.
Surviving are her children: Michael (Donna) Deiss, Vicki Broughton, Ronald Deiss, David (Wilma) Deiss, and Rudolph V. Deiss III "Chip"; grandchildren: Bradley (Stephanie) Deiss, Lisa Deiss, Amber (Kyle) Nevill, Samantha Deiss (Michael), and Alec (Ashley) Broughton; 8 great grandchildren; siblings: Norma Buchanan, Jerry Connor, and Roxy Farlin; and several nieces, nephews, cousins, and friends.
She was preceded in death by her parents, her husband, and brother Harold Connor.
Memorial donations may be made to the American Legion Post 715 Ladies Auxiliary and will be accepted at the funeral home.