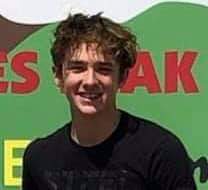 Gage Bell's family is heartbroken to announce that he passed away Sunday, August 15, 2021, from injuries sustained in an automobile accident. He was 16 and would have begun his junior year at Hartsburg-Emden High School this week.
Gage was best described as a loving, kind, smart goofball and someone who went out of his way to make people smile. He loved working out with his cousin Jayden, his honorary brother Caiden and Uncles Jose and Jeremy; He loved food – some of his favorites were his mom's biscuits and gravy, Larry Kolvis's chicken and Deb Logue's meatballs.
Gage enjoyed hanging out, wrestling and boxing with his friends and his Dad. He was very close with his younger sister, Gabriella, and she very much looked up to him. Gage shared a special bond with his Mom and Dad who will forever miss his daily hugs and hearing him say 'Love you Mom" and "Love you Pops".
Gage was born on March 30, 2005 in Peoria, Illinois to his parents Carlos Bell and Jessica Meaker of Emden.
In addition to his parents, surviving are his sister Gabriella Bell, brothers Nicholas and Terrence Bell and Honorary brother Caiden Rossman; his maternal grandparents Debra Bumba of Bloomington, Scott (Lynn) Bumba of Hoffman Estates; paternal Grandmother Hurestine Baldridge of Peoria, Illinois; maternal great-grandmother Joann Bree of Creve Coeur; Uncle Jeremy (Amber) Meaker of Downs, Illinois; Aunt Jennifer (Jose) Flores of San Jose, Illinois; Cousins Jayden and Kaleb Flores and many loving extended family and friends.
Gage was preceded in death by his Cousin Tatum Meaker, Great Uncle John Baird and Grandfathers Ronald Bell and Robert Bree.
Visitation and Funeral Services will be held at Holland Barry & Bennett Funeral Home in Lincoln, Illinois and burial will take place at the Hartsburg Union Cemetery.
• Visitation Services will be held from 5:00pm-7:00pm Friday, August 20, 2021.
• Funeral Services will be held at 11:00am on Saturday, August 21, 2021.
Pallbearers will be Jose Flores, Jayden Flores, Kaleb Flores, Caiden Rossman, Jake Bowers, and Adam Bowers.
"You left us beautiful memories,
Your love is still our guide,
And though we cannot see you,
You're always at our side.
Memorial Donations may be made to Holland Barry & Bennett Funeral Home to assist with funeral expenses or a memorial fund has been established in Gage Bells name at the Farmers State Bank of Emden for those wishing to make a monetary gift. Please make checks payable to 'The Family of Gage Bell' and send to:
Farmers State Bank of Emden
Box 49
Emden, Illinois 62635