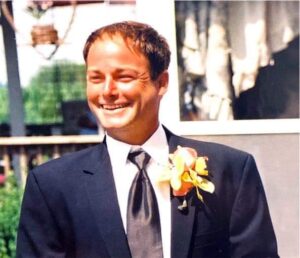 Craig Allen Simpson, 46, of Lincoln, passed away peacefully at his home on August 13, 2021.
Cremation rites have been accorded by Holland Barry & Bennett Funeral Home. A Celebration of life will be held at 11:00 AM Saturday, September 4, 2021 at Hartsburg Union Cemetery. Lunch will follow.
Craig was born November 23, 1974 in Lincoln, IL., the son of Willie and Phyllis (Weingarz) Simpson. He married Tammy (Wibben) on June 23, 2012. Craig was a carpenter and was formerly employed with Mcentire roofing, Sundown roofing, and Brad Matthews Construction. Craig was a loving person that loved the outdoors, golfing, camping, and fishing. He was affectionately known as Mr. Hole In One.
Survivors include his wife Tammy Simpson; stepchildren Myles (Madeline) Moos, and Hope Moos; grandchildren that he loved dearly Eisley and Kennedy; siblings Greg Simpson, Alice (Hank) Barr, Patty (Mike) Oneill, and Linda Brawdy; several nieces, nephews, cousins, and friends also survive.
He was preceded in death by his parents and nephew Jeremy Simpson.
Memorial donations may be made to the family in care of Connie Sherwood to assist with expenses.