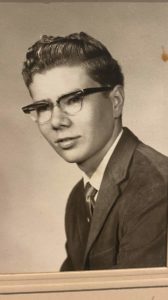 Gerald " Jerry" Frank Hodgdon, 76, of Lincoln, passed away February 25, 2020 at Abraham Lincoln Memorial Hospital.
Visitation will be from 5-7 PM Monday, March 2, 2020 at Holland Barry & Bennett Funeral Home. Funeral services will follow at 7 PM with Ryan Edgecombe officiating. Cremation rites will then be accorded and burial will be at a later date in Harmony Cemetery.
Jerry was born May 14, 1943 in Lincoln, IL., the son of Frank and Neva ( Charles) Hodgdon. He married Constance "Connie" Wiel. She preceded him in death. Jerry proudly served his country in the United States Navy. He was a 1961 graduate of LCHS and studied at the University of Illinois. He was formerly the Sanitary Department Supervisor for the City of Lincoln and acted as a city Alderman. Jerry had a passion for the ptotection of animals and was active in Logan County Rescue. He was a long time member of the American Legion Post 263.
Surviving are his brother Norman
( Lynette) Hodgdon and several nieces and nephews. He had a lifetime of love and friendship with Cheryl Sampson.
He was preceded in death by his parents, wife Connie, sister Delores Bergman, and brother Stanley Hodgdon.
Memorial donations may be made to Locan County Animal Rescue or the American Legion Post 263 and will be accepted at the funeral home.