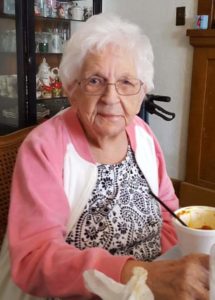 Eva May Halladay, 96, of Elkhart, passed away March 5, 2020 at Memorial Medical Center, Springfield.
Visitation will be from 12 noon until 1pm Wednesday, March 11, 2020 at Holland Barry & Bennett Funeral Home. Funeral services will begin at 1 pm also at the funeral home. Burial will follow in Irish Grove Cemetery.
Eva was born May 14, 1923 in Mears, Michigan, the daughter of Charles Perry Compton and Zilpha S. (Holcomb) Compton. She married Philip Truman Halladay on March 9, 1940. He preceded her in death on June 11, 1972.
Eva worked at Stetson's China Company in Lincoln, IL. for a number of years and retired from Lincoln Developmental Center in 1998. She was a member of Elkhart United Methodist Church where she was a member of the United Methodist Women.
Surviving are her children: Donna Kay Snider of Lincoln, IL., Phyllis May Davis of Camargo, IL. , and Joan Roberta Caplinger of Lincoln, IL; 10 grandchildren, 15 great grandchildren, and 9 great great grandchildren also survive.
She was preceded in death by her parents, husband, daughter Dianna Rae Halladay, sister Alma Young, brothers Lester, Cyrus, Charles, and Perry Compton, 1 granddaughter, and 2 great grandsons.
Memorial donations may be made to the American Diabetes Association and will be accepted at the funeral home.