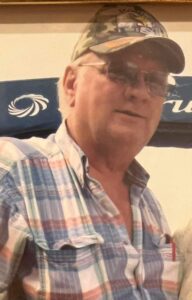 Gerald Leroy "Jerry" Jones, 77, of Delavan, passed away September 8, 2022, at his home.
Visitation will be from 12 Noon until 1 PM Wednesday, September 14, 2022, at Holland Barry & Bennett Funeral Home. Funeral services will follow at 1 PM. Casual dress is requested. Burial will be in Holy Cross Cemetery, Lincoln with military rites performed by the American Legion Post 263.
Jerry was born July 30, 1945, in Chicago, IL., the son of Raymond W. Jones and Francis (Wilmert) Jones Buccholz. He married Mary Spinner on December 29, 1981. Jerry proudly served his country in the United States Marine Corp. He was a member of St. Mary's Catholic Church in Delavan. Jerry retired as a TEAMSTER. He enjoyed golf, boating, fishing, the riverboat, and playing cards with his buddies. He also loved to ride his motorcycles, watch western movies, and go to the movie theater. Jerry loved spending time with his grandsons.
Survivors include his wife Mary Jones, daughter Michelle Fox; grandsons: Chase Griffin, Tyler Griffin, and Seth Fox; great grandchildren Elizabeth, Jace, and Astraea; close friends Red Wheeler and Ed LaBau; siblings Shirley Davis and Carolyn Petersen as well as several nieces and nephews.
He was preceded in death by his parents, sisters Beverley Shanley and Leona Szmuc, brother Darwin Jones, and brother-in-law Jim Davis.
Memorial donations may be made to the Humane Society of Logan County or to the Delavan Food Pantry.