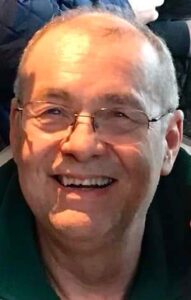 Robert Lee "Bob" Wood, 68, of Lincoln, passed away August 29, 2022, at St. Clara's Manor.
Visitation will be from 11 AM until 1 PM Monday, September 12, 2022, at Holland Barry & Bennett Funeral Home. Funeral services will follow at 1 PM also at the funeral home with pastor Dave Klug officiating. Burial will be in Atlanta Ladies Cemetery following services.
Bob was born October 2, 1953, in Kankakee, IL. Edward (Ted) and Marjorie Wood are his parents.
He married Elizabeth "Lisa" (Phillips) on September 29, 1979.
He was a member of Holy Resurrection Church and had a strong faith. He was a people person. Bob retired from the correctional industry and worked at the Wal Mart Photo Lab where he enjoyed talking with the customers. He enjoyed photography, golf, reading, politics, working on political campaigns, music, and being with his family and friends.
Survivors include: his mother Marjorie Wood, wife Lisa Wood, 5 daughters: Mary Wood, Julie Aseltine (Chris), Lauren Franklin, Allie Wood, Gracie Wood, 5 grandchildren: Jacob Weeks, Thomas McCauley, Abbie Franklin, Emily Aseltine, and Corinne Aseltine; siblings Cheryl Dunn (Lonnie) and Danny Tidball; nieces, nephews, cousins and friends also survive.
He was preceded in death by his father and his granddaughter Ava Weeks.
Memorial donations may be made to the National Multiple Sclerosis Society or to Heifer International.