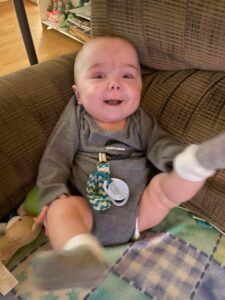 Grayson Anders Franklin, 8 months, passed away January 12, 2023, at Lincoln Memorial Hospital ER.
Visitation will be from 5-7 PM Thursday, January 19, 2023, at Holland Barry & Bennett Funeral Home.
Grayson was born May 1, 2022, in Saint Louis, MO., the son of Jacob Franklin and Carley Robbins. He was such a special, brave, and strong boy. He loved bright colors and lights, recently discovered his hands and feet, and loved to touch faces (especially mommy's) and to grab daddy's beard. He loved car rides and adventures. His short life was filled with doctors and hospitals, but he was still such a sweet and happy little boy. He is now a perfect angel, no more doctors.
Survivors include his parents Jacob and Carley; grandparents Amanda and Woody Franklin, Jan Robbins, Doug Robbins; great grandparents Joyce Pettijohn, Woodrow Franklin Sr., and Geneva Skelton; and Uncle Brandon Robbins.
He was preceded in death by his great grandfather Morris Pettijohn, great uncle Andy Pettijohn, and great-great grandparents Walter and Carley McLaughlin.
Memorial donations may be made to Barnes Jewish Children's Hospital.