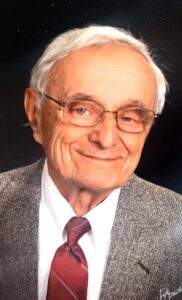 Julius J. Kasa, 92, of Lincoln, IL passed away on January 19, 2023 at St. Clara's Manor and Rehab Center.
Visitation will be from 9AM until 11AM Friday, January 27, 2023 at First Presbyterian Church, Lincoln. Funeral services will follow at 11 AM with Adam Quine officiating. Burial will be in New Union Cemetery, Lincoln. Holland Barry & Bennett Funeral Home is assisting the family.
Julius was born April 11, 1930 in Springfield to Julius and Mary (Dudas) Kasa. He married R. Marilyn Varvil on August 8, 1954.
Julius graduated from Lanphier High School and Western Illinois University. He received a master's degree from Sangamon State University. Julius served in the U.S. Army at Camp Chaffee, Arkansas. He moved back to Springfield in 1955. He began his teaching career at the junior high inPetersburg where he taught for two years. He then taught at Ridgely Elementary School in Springfield until his retirement in 1985. During the summer months and after retirement, he gardened and operated Kasa's Produce.
He was preceded in death by his parents. Survivors include his wife Marilyn; sons Stephen Kasa of Lincoln and Paul (Julie) Kasa of Lincoln; grandchildren Michael (Courtney Clark) Kasa, Rachel (Ryan) Shershen, and Rebecca Kasa; great-grandchildren Alexander Shershen and Evelynne Shershen; sister Mary Ann (Wes) Stephens, niece Cara Michalek, and nephew Jeff Jagielski.
Julius was known for his generosity and compassion. His joys included his family, gardening, conversation, and following the sporting exploits of the Fighting Illini and the Chicago White Sox. He participated in Gideon's International and was a member of First Presbyterian Church where he served as an elder.
Memorial contributions may be made to First Presbyterian Church, Lincoln and the Lincoln Logan Food Pantry.