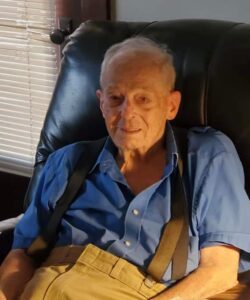 Harold Dean Roos, 91, of Lincoln, passed away January 11, 2023, at home surrounded by his family.
Visitation will be from 10 Am until 12 Noon Saturday, January 14, 2023, at Zion Luthran Church, Lincoln. Funeral services will follow at 12 Noon. Burial will be in Zion Cemetery with full military rites performed by the American Legion post 263. Holland Barry & Bennett Funeral Home is assisting the family.
Dean was born April 13, 1931, in Lincoln, IL., the son of Harold A. Roos and Rebecca (Cress) Roos. He married Eloise Gannon in 1972. She preceded him in death in January of 1990. He proudly served his country in the United States Army during the Korean War. He was a long-time member of Zion Lutheran Church. Dean loved mowing and had a successful mowing business with his son Keith for many years. He retired from the bottle factory after many years. Dean had many personal hobbies. He loved ice cream and apple pie, but what he loved most was being with his children and grandchildren. He was always there with his suspenders and a smile.
Survivors include his children: Michael Keith Roos and his wife Keena, Kenny Gannon and his wife Lita, Margaret Frakes, Kathy James, Terri McEntire and her husband Ron, and Minnie Hedrick and her husband Robbie; grandchildren: Autumn (Roos) Kopochius and Summer Roos, Connie Purdue, Tammy O'Brien, Dana Heyen, Erica Frakes, Lori Kay Crosier, Justin Gannon, Jaimie Gannon, John Black, and Carie Groves; numerous great grandchildren and great grandchildren; brother Marlin Roos, and many extended family members and friends also survive.
He was preceded in death by his parents, his wife Eloise, brother Hervil Roos, sister Melba Novak, sister-in-law Kathy Roos, grandson David McEnire, and great granddaughter Alayah.
Memorial donations may be made to Zion Lutheran Church or to Zion Lutheran School.