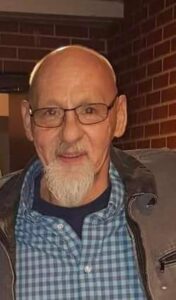 Ricky Lee Hopp "Campy", 59, of Lincoln, passed away January 9, 2023 at home surrounded by his loving family.
Cremation rites have been accorded by Holland Barry & Bennett Funeral Home. A memorial visitation will be from 1-3 PM Saturday, January 28, 2023 at Holland Barry & Bennett Funeral Home.
Ricky was born June 1, 1963, in Lincoln, IL., the son of Richard Lee Hopp and Sandra Kay (Yeakey) Hopp.
He enjoyed life and lived it to the fullest. He was a free spirit and had the biggest heart. Ricky loved his children and grandchildren more than anything. He was known to always go all out for Halloween and dressed up with the grandkids. He loved the outdoors; fishing, four wheeling, dirt bikes, and loved the ocean. Cooking and baking for his family was something he always loved. Ricky loved to play the lotto and the slot machines, but he felt the luckiest when he was with his family.
Survivors include his children Tiffany Koehler and her husband Adam and Ricky Lee Hopp II.; the love of his life Charlene "Sissy" Vincent; grandchildren BriAnna Worth and BrookeLyne Vincent; great grandson Kason Danley; and sister Melonie Hopp. His beloved fur grandbabies Abbie Rae, Lincoln Henry, Finn Thomas, and Gunner Winston also survive as well as many nieces, nephews, cousins, and friends. He had a large extended family, having been part of the Vincent family since his teens.
He was preceded in death by his parents, his Memo Charlene Vincent, daughter Tanika, and nephews Bubby, Chance, and David.
Memorial donations may be made to Shriners Hospital for Children and will be accepted at the funeral home.