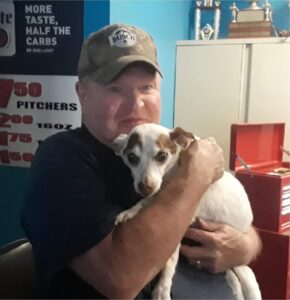 Irving Frederick "Irv" Gesner, 74, of Lincoln, passed away December 26, 2020 at home surrounded by his loving family.
Visitation will be from 5-7 PM Monday, January 4, 2021 at Holland Barry & Bennett Funeral Home. Funeral services will be at 11 AM Tuesday, January 5, 2021 also at the funeral home with Ron Otto officiating. Burial will follow in New Union Cemetery.
Due to COVID 19 and CDC Recommendations social distancing and proper facial coverings must be observed.
Irv was born February 18, 1946 in Rhode Island. He proudly served his country in the United States Air Force. Irv married Leona Spzaicher on July 27, 1989. She preceded him in death on August 30, 2016.
He worked for many years at the Bottle Factory before opening The Glass House Tavern. Irv enjoyed pool, darts, golf, bowling, playing the poker machines, drinking with friends, and being with his family. He was a die-hard Patriots fan and also rooted for the Red Sox.
Survivors include his children: Candi Gesner, Debbie Horwood, and Mary Ann Gesner; grandchildren: Kayla Bartz, Bailey Follis, Ayden Gesner-Parke, Jessica Horwood, Micah Horwood, Jordan Gesner, and Anjelica Gesner; great grandchildren Peyton Bacon and Kendall Douglas; brothers Dick Gesner and Mitchell Dominique and sisters Gail Creed, Shirley Ogozalek, and Paula Dominique. Many friends also survive.
He was preceded in death by his parents, son Todd Gesner, wife Leona Gesner, and brother Ernie Gesner.
Memorial donations may be made to the American Cancer Society or to St. Jude's Children's Research Center and will be accepted at the funeral home.