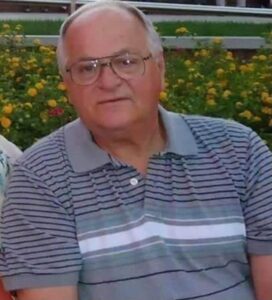 Larry Eugene Farmer, 77, of Lincoln, passed away December 18, 2020 at St. John's Hospital.
Graveside services will be at 1 PM Monday, December 28, 2020 at Walnut Hill Cemetery, Williamsville. Due to COVID 19, please practice social distancing and wear protective face coverings.
Holland Barry & Bennett Funeral Home is assisting the family.
Larry was born October 26, 1943 in Lincoln, IL., the son of Russell and Juanita (Bateman) Farmer. He married Virginia Carol Trail on June 2, 1962. She preceded him in death on June 28, 2019.
Larry retired from the Illinois Department of Corrections after many years of service. He was a member of the First United Methodist Church, Lincoln. He was born and raised in Logan County; he knew everyone and everyone knew him. Larry enjoyed volunteering at the Humane Society of Logan County, woodworking, being outdoors, and he adored his grandchildren and great grandchildren.
Survivors include his children: Douglas Farmer, Sheri (Brad) Price, and Trisha (Patrick) Tibbs; grandchildren: Justin Price, Kaylyn Stout, Alaina Tibbs, Alyssa Tibbs, and Devin Tibbs; great grandchildren Landon Stout and Karter Stout, and one great grandchild on the way; brother Bob Farmer( Diane) and sister Darla (Al) ; Several extended family members and friends also survive.
He was preceded in death by his parents, his wife Carol Farmer, brothers Rusty Farmer, Kenny Paulsen, and Roland Farmer, and sister Patty Buckles.
Memorial donations may be made to the Humane Society of Logan County.