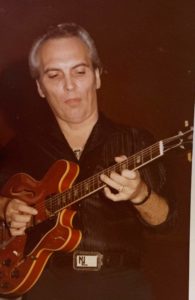 Jack A. Sampson, 83, of Lincoln, passed away September 4, 2019 at his home surrounded by family.
Visitation will be from 11 AM until 1 PM Monday, September 9, 2019 at Holland Barry & Bennett Funeral Home. Funeral services will follow at 1 PM with Ernie Harvey officiating. Burial will follow in New Union Cemetery.
Jack was born August 7, 1936 in Lincoln, IL., the son of Jess and Nona (Shelton) Sampson. He was once married to Goldie Kirk. He later married Polly Kilmer and they have spent 18 loving years together.
Jack was a purchasing agent for Meyers Industries and for Goer Manufacturing. He was a lifetime musician. Ernest Tubb was his favorite musician. He taught guitar lessons, was in multiple bands, sang, and wrote music. He also enjoyed painting and was an avid St. Louis Cardinals Fan.
Surviving are his wife Polly Sampson; children: Kathy Ann Howard, Jack Michael Sampson, Kevin Wayne Sampson, Karen Sue Battin, Malisa Kay Rankin, Hannah Farmer, Paul Farmer, and Kara Farmer; several grandchildren, great-grandchildren, and great-great-grandchildren, nieces and nephews also survive. The family wishes to extend a special thank you to nieces Dee Daniels and Vicki Norris for all of their love and support throughout the years.
He was preceded in death by his parents and his siblings: Marian Daniels, Dick Sampson, and Larry Sampson.
Memorial donations may be made to the family in care of Polly Sampson to be used for a headstone and final expenses.