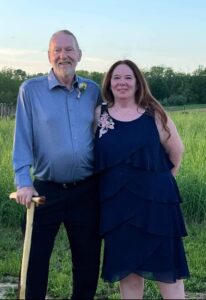 Jack Rodney Merreighn, 67, of Lincoln, passed away December 1, 2022, at Memorial Medical Center with his family by his side.
Visitation will be from 5-7 PM Tuesday, December 6, 2022, at Holland Barry & Bennett Funeral Home. Funeral services will follow at 7 PM. Casual dress is requested.
Jack was born December 29, 1954 in Moline, IL., the son of Francis and Clara (Smith) Merreighn Jackson. He married Roberta O'Connor on June 7, 1972. They shared 50 years of marriage and a lifetime of friendship. Jack loved music and spent nearly half of his life going to concerts. He could sit and talk for hours with friends, acquaintances, and strangers alike. He was known to drive his lawnmower all around the neighborhood visiting and checking up on his neighbors. Jack was a community activist. He loved helping his community and partnered with many different organizations and community members to make Lincoln the best it could be. He was an avid Chicago Bears fan. Jack was also a history buff and loved antiques. He was a loving, sharing, kind, caring father and grandfather. He attended Lincoln Christian Church and had a strong faith. He will be greatly missed by all who knew and loved him.
Survivors include his wife Roberta Wootsy Merreighn; daughter Jacqueline Strohl (Eric) and son Jason Merreighn (Kelly Bright); grandchildren: Zephen Paul Merreighn, Zane Patrick Merreighn, Zailey Piper Merreighn, Samantha Lynn Strohl, Patrick Scott Strohl, and Jacob Joseph Strohl; brothers Francis Merreighn Jr. (Kathi) and Daniel G. Merreighn. Several nieces, nephews, cousins and friends also survive.
He was preceded in death by his parents, brothers Greg Merreighn, Ronnie Merreighn, and Charles Dean Jackson, and sisters Patsy Cobb and June Merreighn.
Memorial donations may be made to Go Fund Me to help the family with costs