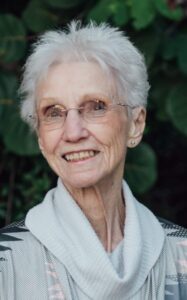 Verna Mae Lessen, 90, of Lincoln, IL passed away November 22, 2022, peacefully in her home. Verna has requested no visitation or funeral services and a private graveside service will be held at a later date. Cremation rites have been accorded by Holland Barry & Bennett Funeral Home.
Verna was born April 6, 1932 in rural Hartsburg, IL, to Jacob and Lena 'Westen' Menssen and was the youngest of four children. She married Darrell Lessen on June 17, 1956 at the Methodist Church in Hartsburg. They were married 49 years until his death on July 3rd, 2005.
Verna worked in Lincoln, IL at First National Bank and then at Lehn & Fink. Several years prior to her retirement from Lehn & Fink, she served as the Secretary Cashier to the Controller and retired on June 14, 1996. In her retirement, Verna enjoyed reading and volunteering her time at the Lincoln Hospital gift shop and her local church. She was a lifelong member of the United Methodist Church in Lincoln and the Abraham Lincoln Memorial Hospital Auxiliary. Verna was also a diehard Fighting Illini fan who enjoyed watching Illini football and basketball as well as St Louis Cardinal baseball.
Even though Verna did not have children of her own, she is survived by her nephew & nieces whom she loved like they were her own – nephew, Galen Miller and his wife Cheryl of Mackinaw IL, niece, Joyce Clark and her husband Jim, of Lancaster KY, as well as Debbie Wilkins of Lancaster, KY, Brenda Travis of Madisonville, KY, and the late 2nd Lt. Douglas Menssen of Greenville, KY. Verna also had several great nieces and nephews, and great, great nieces and nephews, whom she loved and they loved her very much.
She was preceded in death by her parents, Jacob and Lena Menssen, brother, Cleo Menssen, sisters, Luella Miller and Gladys Bossingham, and her loving husband, Darrell Lessen.
Memorial donations may be made to the donor's choice.