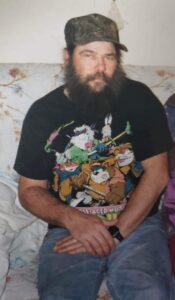 LINCOLN, IL- James E. Brown "Ernie", 70 of Lincoln passed away March 26, 2022 at his home.
Visitation will be from 11 AM until 1pm Monday, April 4, 2022, at Holland Barry & Bennett Funeral Home with services at 1pm. Burial will follow in Zion Cemetery.
Ernie was born September 3, 1951, in Springfield, IL the son of James Brown and June Segretto (Winkel).
He was raised by his dear aunt Edna Noble who he had a special bond with.
He enjoyed the outdoors, soaking up the sunshine, fishing, mushroom hunting, arrowhead hunting and thunderstorms.
Survivors include his significant other Lori Adcock; his children: Brandy Fox, Shaun Brown, Jenny Brown,
Melissa Brown (Chris), Kaley Brown, Megan Brown, Chase Brown; 12 grandchildren which includes Avery McIntosh who he helped raise and had a special bond with; siblings Donna Covert and Crystal Fulk.
He was proceeded in death by his parents, stepfather, many aunts and uncles including Ed Winkel who he looked up to and had a father like figure bond with.
Memorial donations may be made to Holland Barry & Bennett Funeral Home to assist with funeral expenses.