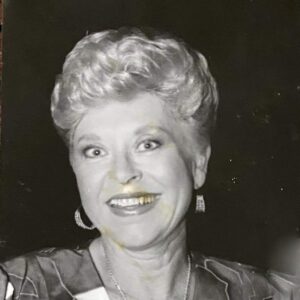 Janet Ulrich died peacefully on Saturday, Nov. 13th after a long life of remarkable good fortune. Until the end, she was curious about every person who helped her make it through the day. She was quick to tell them how much she appreciated them, and after asking them about their story, she always encouraged their best aspirations.
Janet's story is testament to the kindness of strangers. She was orphaned and managed to cross the entire U.S., alone, at age 11, in order to get to a long lost aunt whose return address she'd found on an envelope. They cared for her as if she was their own and encouraged her to become a nurse. During nursing school she met the love of her life, a young resident physician, Dr. Edward Ulrich.
The young professional couple married and moved to Lincoln in 1963 where Janet made sure they put down roots in almost every aspect of our community. They raised three children, and a number of her beloved dachshunds. Janet was deeply involved in all manner of the kids' sports teams and school activities, along with local organizations involving the arts, and events that supported the good work of Lincoln's medical community.
Because of her unusual childhood, she was fearless in her optimism about the world. She never met a stranger and Janet made sure that she and Doc Ulrich traveled widely abroad. Many of their trips involved cultural exchange programs where they stayed in the homes of people who did not speak a word of English.
Janet was the kind who would ask to ride outside on the front "cattle catcher" part of the train engine of the Orient Express, as it crossed Mongolia. When they told her that they would not stop to bring them back inside the train for 6 hours, she was undaunted. No problem. Janet was a "make it work" kind of person.
In her daily life, she was a great homemaker; as comfortable canning pickles and freezing truckloads of corn, as she was hosting frequent cocktail and dinner parties. She made it possible for the whole family to camp, almost every weekend, with countless amazing friends, at a rustic farm north of Lincoln.
In the last 22 years, since her husband's death, she continued to travel the world, has been active in her grandkid's lives, and enjoyed her lifelong friends here in Lincoln.
She is survived by her daughter Dr. Lynda (and her husband, Dr. Chuck Verderber) Ulrich, son Alex (and his wife,Katie) Ulrich, and daughter Dr. Betsy (whose husband is Ron Tomczak) Ulrich and Janet had seven grandchildren: Liesl, Louisa, and Jens Ulrich-Verderber; AJ and Charlotte Ulrich; and Diane and Warren Ulrich-Tomczak.
Visitation will be from 5-7 PM Thursday, November 18, 2021 at Holland Barry & Bennett Funeral Home. Funeral services will be at 11:00 AM Friday, November 19, 2021 at First Presbyterian Church, Lincoln with Pastor Adam Quine officiating. Burial will
Follow in Old Union Cemetery. Due to CDC recommendations, proper social distancing and mask wearing is requested.
Memorial donations may be made to First Presbyterian Church, Lincoln or to 2×4's for Hope and will be accepted at the funeral home.