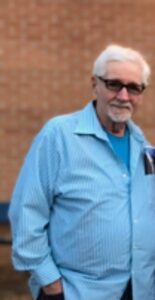 John Wayne Buchen, 72, of Lincoln, passed away June 8, 2021 at home surrounded by his family.
Cremation rites have been accorded by Holland Barry & Bennett Funeral Home. A celebration of life will be held at a later date.
John was born October 18, 1948 in Decatur, IL., the son of Robert and Dolores Buchen. He married Katrinka Etherton . He was a self employed contractor for over 50 years.
John was a fan of all sports, particularly horse racing and the St. Louis Cardinals. He enjoyed spending time with his grandchildren and was known for being an extremely hard worker. He will be greatly missed by many.
Survivors include his wife Katrinka; children: Cynthia (Peter) Scaturico and Heather (Kevin) Bruce; grandchildren: Chelsea, Hailey, Cierra, Gracey, Alyssia, and Sophia; great grandchildren: Stella, Maxwell, and Daphne.
He was preceded in death by his parents.
Memorial donations may be made to NORD (National Organization for Rare Disorders).