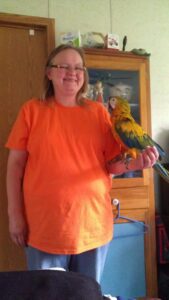 Brenda Lee Leevey, 55, of Lincoln, passed away June 10, 2021 at Carle BroMen Health in Normal, Illinois.
A celebration of her life will be held from 5-7 PM Tuesday, June 15, 2021 at Holland Barry & Bennett Funeral Home.
Brenda was born November 10, 1965 in Davenport, Iowa, the daughter of Robert and Melba (Wagoner) Leamon. She married David Leevey on July 6, 1987.
Brenda loved animals. She volunteered for Logan County Animal Control and was a wildlife rehabilitator. She was very adventurous, loved concerts and rock and roll music. Her family and friends were the most important thing in her life. She will be missed and lovingly remembered by all who knew and loved her.
Survivors incude her husband David Leevey; her children: Charles J. Leevey, Kelly Leevey, and Cody Leevey; grandchildren: Ava F.M. Leevey, Savannah Brewer, James Brewer, Benjamin Ingram, and Brookelynn Leevey; and her best friend Tammy Powell.
She was preceded in death by her parents, brothers James Leamon, William Leamon, Johnny Leamon, and infant sister Melba J. Leamon.
Memorial donations may be made to Prairie Wildlife in care of Mary Rotz.