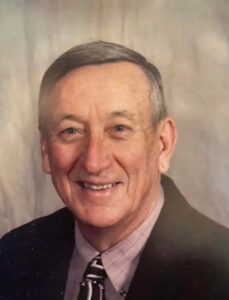 Karl William Newton Sr. "Fig", 87, of Beason, passed away Friday, August 26, 2022, at home surrounded by his loving family.
Visitation will be from 10 AM until 12 Noon Thursday, September 1, 2022, at Holland Barry & Bennett Funeral Home. Funeral services will follow at 12 Noon with Pastor Walter Smith officiating. Burial will be in New Union Cemetery.
Karl was born August 19, 1935, in Lincoln, IL., the son of George Lincoln Newton and Irma Eileen (Newhouse) Newton. He married Donna Barker on October 18, 1958, in Lincoln, IL. He was a salesman and eventually retired from the State of Illinois. Karl was a deacon at Lincoln Christian Church. He was a Lincoln Park District Board Member as well as a Chester East Lincoln School Board Member. Karl coached little league for several years. He was a member of the Class A State Champion Fastpitch Softball Team "The Road Runners" in 1969.
Survivors include his wife, Donna Newton; 4 sons: Karl William Newton Jr. (Sherry), Leonard Eugene Newton (Renee), Phillip Dale Newton, and Quent Adam Newton (Sherri); 6 grandchildren; 6 great grandchildren; brother James Martin Newton, Sister Georgia Kay Newton; and several nieces and nephews.
He was preceded by his parents, brother Leonard Ray Newton, granddaughter Ashley Elizabeth (Newton) Colebar, sister-in-law Kay Newton, and niece Bronwyn Newton.
Memorial donations may be made to the Harvest of Talents for World Hunger and will be accepted at the funeral home.