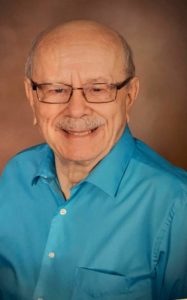 Lester G. Thomson, 82, of Lincoln passed away February 12, 2020 at The Christian Village with his loving family by his side.
Cremation rites have been accorded by Holland Barry & Bennett Funeral Home. A memorial visitation will be from 10 a.m. until 11 a.m. Saturday, February 22, 2020 at Jefferson Street Christian Church. Memorial services will follow at 11 a.m. Burial will be at a later date in Camp Butler National Cemetery.
Lester was born April 13, 1937 in Sparta, WI, the son of C. Scott and Frances (Wieland) Thomson. He married Judith K. Carson on February 2, 1965.
He graduated from Macomb High School and from the University of Illinois with his Doctor of Veterinary Medicine Degree. Lester proudly served his country in the United States Army in active duty and the reserves for 32 years. He was stationed at Omaha, NE, Japan, Rochester, NY, and Kaiserslautern, Germany. He was the commander of the 719th Medical Detachment and later the 320th medical detachment. He retired with the rank of Colonel.
Thomson was a long-time member of Jefferson Street Christian Church where he served in various capacities over the years including elder, trustee, and member of many other committees. He was formerly employed by the American Humane Society as well as Logan County Animal Control.
Surviving are his wife Judith Thomson of Lincoln; children: Scott (Angie) Thomson of Avon, IN; Todd (Jennifer) Thomson of Valparaiso, IN; Lesli (Chris) Hoagland of Lincoln; and Brett (Lesley) Thomson of Lincoln; grandchildren: Isaac Thomson, Hunter Thomson, Caleb Thomson, Aubrey Thomson, Ethan Thomson, Adam Thomson, Nolan Thomson, Carson Hoagland, and Erin Hoagland; sister Wanda Romine also survives.
He was preceded in death by his parents and his sister, Stawanna Goforth.
Memorial donations may be made to Jefferson Street Christian Church.