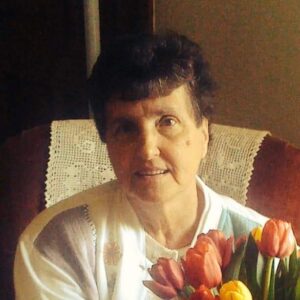 On Easter Sunday, April 17, 2022, Lola Ilyne Mayer(Thomas), loving mother of three sons, ascended to Heaven at the age of 80.
Ilyne always put others before herself. She was a great listener, kind, soft spoken, and loved all of her family, kids, grandkids, great grandkids, and friends dearly. She loved to bake, work in her yard, go to the movies, and travel. She loved listening to country music, watching game shows, and crime dramas. She retired from Eaton and always enjoyed getting together with the other retired girls once a month to chat it up at the Blue Dog.
"We will all miss hearing you laugh and seeing your caring smile. Where we lost a Mom, Heaven gained an Angel." – The Mayer Boys.
Bill would have wanted me to mention that she was a fan of baseball and the great Chicago Cubs. Go Cubbies!
She is survived in death by her sons, Randy Mayer of Pekin, Ill., Steve Mayer(Keri) of Volo, Ill., and Terry Mayer(Elaine) of Franklin, TN.
Also surviving her are three brothers, Bob Thomas(Deb), John Thomas(Judy), and Leonard Thomas(Peggy), all of Mason City, Ill.
She was preceded in death by her life partner of 25 years Bill Carothers, her Mother and Father, Ruth and Lewis Thomas, brother Lou Thomas(Pat), and sister Margaret Dixon(Odell).
She has 10 grandchildren – Morgan, Ashley, Andrew, Hailey, William, Alyssa, Bianca, Danny, Matthew, and Gianna.
4 great grandchildren – Mia, Elena, Kylee, Conor, and Quest.
Lola Ilyne Mayer was born October 11, 1941 in Mason City, Illinois. She was a graduate of Mason City High School – Class of 1959.
The graveside service Celebrating the Life of Lola Ilyne Mayer will be held at the Mason City Cemetery at 1pm on Friday, April 22, 2022. In lieu of flowers, the family asks that donations be made in her honor to St. Jude Children's Research Hospital. www.stjude.org