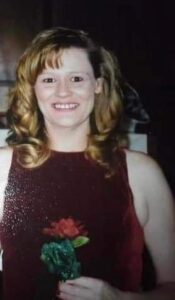 Lora Lea "Lori" Dove, 55, of Lincoln, passed away August 17, 2023 at her home.
Cremation rites have been accorded by Holland Barry & Bennett Funeral Home. A memorial visitation will be held from 5-7 PM on Wednesday, August 23, 2023 at the funeral home.
Lori was born July 6, 1967 in St. Joseph, MO, the daughter of Virgil A. Calhoun and Phyllis (Reynolds). She married Rodney Dove and they shared 33 years together.
She was employed at Apollo Mart for several years and then worked in home health care. Lori enjoyed cars, crocheting, and being with her family. She met her husband through her love of cars, and they rebuilt the motor of their car together.
Survivors include her husband Rodney Dove children: Miranda Reynolds, Michelle Kaesebier, Jacob Mahanna, Andrew Landers, step-children: Jennifer Sanders, and Chris Sanders; grandchildren: Shadae Carter, Shiyah Carter, Curtis Kelly Jr. Chanel Kelly, Charaeh Reynolds, and Akyrah Mahanna; stepsister Lisa Knapp survives as well as other extended family members and friends.
She was preceded in death by her parents.
Memorial donations may be made to Rodney Dove or to Holland Barry & Bennett Funeral Home to assist with expenses.