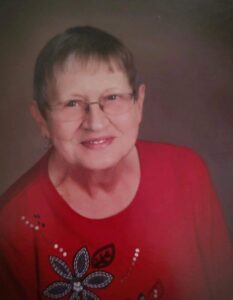 Ruby Marie Bates, 80, of Lincoln, passed away August 29, 2023, in Vandalia, IL. surrounded by her loving family.
Visitation will be from 11:00 AM until 1:00 PM Tuesday, September 5, 2023, at Holland Barry & Bennett Funeral Home. Funeral services will follow at 1:00 PM also at the funeral home. Burial will be in Green Hill Cemetery, San Jose, IL.
Ruby was born July 30, 1943, in Lincoln, IL., the daughter of Samuel Taylor and Frances Ruby (Lowe) Taylor. She married Donald Bates in 1981. He preceded her in death in 1996. Ruby was a faithful member of Jefferson Street Christian Church. She was also an active member of the Oasis Senior Center where she enjoyed bingo, crafts, and socializing with her many friends. Ruby retired from Lincoln Developmental Center after more than 30 years of service.
Survivors include nephews John Reece (Gena) and Daniel Reece (Barbara), niece Renna Kelly (Jeff); great nieces and nephews: Tommy Reece (Lynzi), Michael Reece (Brandi), Jenna Townsend (Zach), Jessica Fulk, Jeffrey Kelly (Jaedyn), and Benjamin Reece; 11 great-great nieces and nephews also survive.
She was preceded in death by her parents, her husband, an infant son, sister Emily, and great-great nephew Trevor Reece.
Memorial donations may be made to Jefferson Street Christian Church or to the Oasis Senior Center.