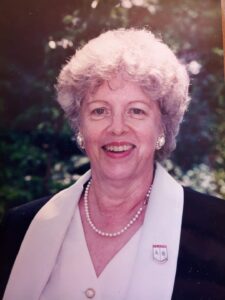 Lorraine Emma Bree Martinie departed this life on December 17, 2020, dying of cancer at the age of 91, shortly after celebrating her 70th wedding anniversary with her beloved husband Howard on November 23rd.
Born in Milwaukee on September 13, 1929, to Paul and Mildred (Klug) Bree, she grew up in Lincoln, Illinois, where she met and married Howard. Together they raised three children and lived in Lincoln; Brownsburg, Indiana; Ypsilanti, Michigan; Rockford, Illinois; King of Prussia, Pennsylvania; Simpsonville and Greenville, South Carolina; and Lake Barrington, Illinois.
Lorraine enjoyed cooking, art, travel, and, most of all, her family. She co-owned a catering company "Delicious Endeavors" in Pennsylvania, and received an Associate degree in Art from the Greenville Art Museum in South Carolina. An avid painter, creating in oil, acrylic, watercolor, and pastels, she was active in the Greenville Arts Center, and exhibited extensively in the Southeast.
Her travels took her to many domestic destinations as well as Canada, Jamaica, Mexico, and Puerto Rico; and six European countries, including a favorite trip with artist friends for plein air painting in Provence. She and her husband hosted many family get togethers, particularly beach vacations at Kiawah Island where up to 17 family members shared a large house, and also enjoyed annual get togethers with her brother Don Bree and his wife Donna and sister Twila Sullivan and her husband Mike.
She is survived by husband Howard Martinie; children Steve (Joan) Martinie of Whitefish Bay, Wisconsin, Roger (Gloria) Martinie of Cochranville, Pennsylvania, and Linda (James) Hoffmann of Elgin, Illinois; grandchildren Amelia, Allison, Michelle, and Rebecca (Brad Endres) Martinie; Joshua, Sara, and Spencer (Kathleen) Hoffmann, and Melissa (Joe) Simon; step grandchildren Liz Seabolt and Simon Yu; one (Aiden Endres) and 8/9th (to be named in January) great grandsons; brother Don (Donna) Bree, sister Twila (Michael) Sullivan; nieces Jane (Darwin) Ingram, Lisa (Chris) Olson, Molly Sullivan, and Laura (Todd) Wooten; and nephews Brian (Carrie) Bree and Paul (Pam) Martinie.
Burial in Lincoln, Illinois, will be private. Holland Barry & Bennett Funeral Home is assisting the family. A life long Lutheran, memorials to St. Michael Lutheran Church in Greenville, South Carolina, are suggested.