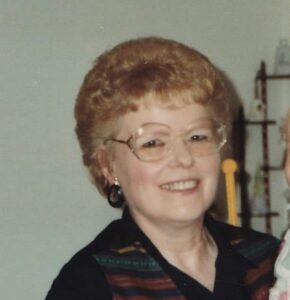 Marlene Bragg, 83, of Lincoln, went home to be with her Lord and Savior Jesus on December 4, 2020, at The Christian Village.
Holland Barry & Bennett Funeral Home has been entrusted with her care. Graveside services will be 12 Noon Wednesday, December 23, 2020, at New Union Cemetery officiated by Christian Village Chaplain Ryan Edgecomb. DUE TO HEALTH CONCERNS RELATED TO COVID-19: facial coverings and social distancing required.
Marlene was born January 26, 1937, in Omaha, NB., the daughter of Lloyd and Mary Avis (Thompson) Mefferd. Marlene graduated from Storm Lake High School (Storm Lake, Iowa) in 1956. She married Darrell Magnussen and then attended Minnesota Bible College, serving on their traveling Vacation Bible School team. She then attended and graduated from cosmetology school, working as a beautician for several years in Minnesota. She served as a church musician for several years, playing piano and organ. The couple later divorced.
Marlene married Jerry W. Bragg in 1983 in Lincoln, IL. He preceded her in death in 2013. She was a faithful member of Lincoln Christian Church for 45 years, participating in children's ministry, choir, calling program, and the annual Harvest of Talents charity event. Marlene was known by many children at the church as the "sticker lady." She was employed at Wal Mart for 20 years. She enjoyed crafting and spending time with her family. She especially enjoyed and excelled at planning family events such as birthday, Christmas, and Thanksgiving celebrations.
Survivors include: daughters Pam (Geoff Guzynski) Coleman of Laguna Hills, CA., Kay (Mark) Oaks of St. Louis, MO., step-children Cathy (Jim) Liebers of Lincoln, NE., Jesse (Jeanne) Bragg of Beason, IL., Jerry Jr. (Barb) Bragg of Chestnut, IL., Theresa McGee of Lincoln, IL., and Dan Bragg of Browning, MT; 17 grandchildren and 3 great-grandchildren also survive.
She was preceded in death by her parents, sister Marjean, husband Jerry W. Bragg, and son-in-law Timothy McGee.